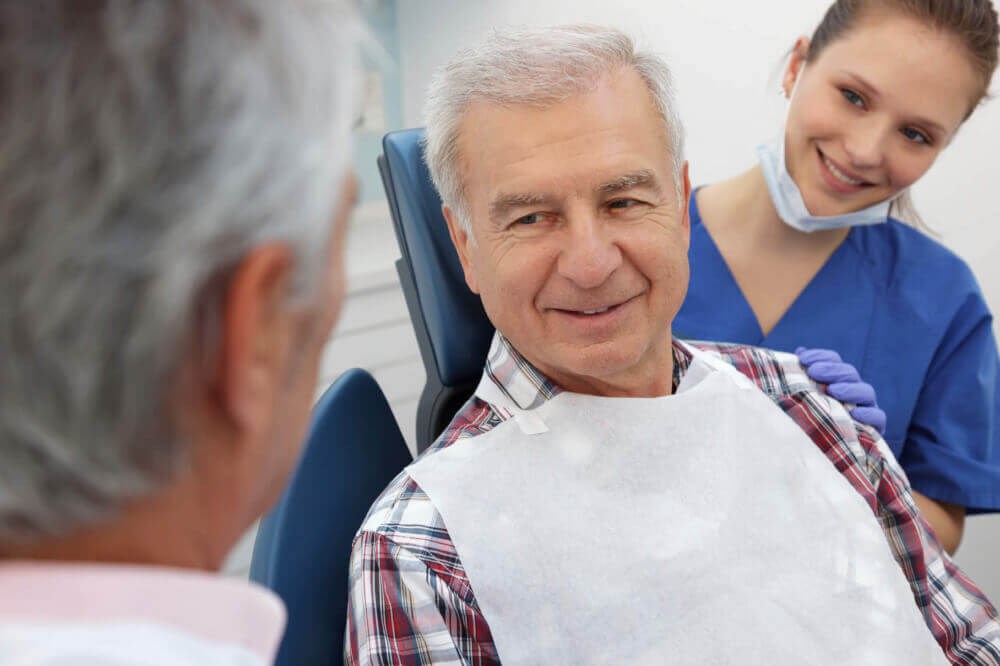 REVITALIZE YOUR SMILE USING DENTAL IMPLANTS
Over the course of your lifetime, you might be missing one tooth, or some, or even a lot of your teeth because of an injury, natural aging, decay, or other factors. Until recently, when you were missing a tooth or teeth, then you could only fix it using removable dentures or a bridge. However, with the new techniques and technologies in modern dentistry, you finally have the choice of restoring a lost tooth or teeth with custom restorations attached to dental implants. Made to feel natural and work like real teeth, implants can repair your smile whether you've lost a single tooth, a few, or all your teeth. If you're considering a custom dental restoration that looks attractive and lasts, ask your dental practitioner in League City, TX to tell you about implant dentistry. At Gulf Breeze Dental Care, we use high-quality implants and custom restorations for those who want a crown (for a single tooth), a bridge (a couple of teeth), partials (the majority of the teeth), or complete dentures (all the teeth on one or both arches). If you've been blowing off your lost teeth or you're disappointed with removable dentures, then you might be a great candidate for an implant-supported restoration.
WHAT ARE DENTAL IMPLANTS?
An implant is a metal post that's screwed into the jaw. When your post(s) has healed into your bone and gums, then it'll be powerful enough to connect to your custom-made crown, bridge, or denture. At Gulf Breeze Dental Care, we offer implant placement with sedation to help keep patients relaxed and calm throughout the process. In addition, we offer top-quality crowns, bridges, and dentures for beautiful outcomes. Based on which restoration is required, one or several implants could be placed to make sure your restoration is strong and secure. Our team at Gulf Breeze Dental Care will give you great care and understanding as we guide you through implant surgery and getting your new restoration.
WHAT MAKES DENTAL IMPLANTS THE RIGHT CHOICE?
If your tooth or teeth are lost, it may cause multiple issues. The space created by a lost tooth might permit your neighboring teeth to shift into misalignment. This malocclusion may cause issues, such as TMD (temporomandibular joint disorder). Also, if there's no root to keep the jaw and gums actively stimulated, atrophy may cause other dental issues as well as a sunken facial structure. Unlike conventional removable dentures or even a bridge and crown that's glued in place, an implanted restoration helps to keep your jaw and gum tissue healthy. Another significant reason why League City, TX patients are enjoying their implant-supported restorations is how normal that they appear and the way they work like your real teeth. Implants integrate with your jawbone and gums so the connected restoration is secure enough to eat almost all foods plus it needs no special attention. When your implant-supported restoration is attached, your teeth should be cleaned twice per day, also you need to get cleanings and examinations at your dentist's office in League City, TX. In comparison with conventional bridges, crowns, and dentures, implanted restorations are longer lasting if cared for properly.
TYPES OF IMPLANTS
Based on the number of teeth you're missing, you might want an implanted crown, bridge, partials, or complete dentures:
IMPLANT-SUPPORTED CROWN
Implanted crowns can replace one lost tooth. When your implant has healed into your bone and gum tissue, then a customized crown can be connected. The crown will be colored and shaped to match with your teeth to deliver a beautiful outcome.
IMPLANT-SUPPORTED BRIDGE
For extra security, an implant may be connected to your bridge. An implanted bridge utilizes one post that is connected to a false tooth, which is also attached to crowns that are put on top of neighboring teeth.
IMPLANT-SUPPORTED PARTIALS
To restore several, but not all your teeth on one arch, supported partials may be utilized. Implants will be carefully placed then connected to your customized partials.
IMPLANT-SUPPORTED FULL DENTURES
When you're missing all your teeth on your top and/or bottom arch, implanted complete dentures are a good choice. After several implants have been placed and healed into your gums and jawbone, dentures can be connected.
GETTING YOUR IMPLANT AND CUSTOM RESTORATION
When you and your League City, TX dentist have decided a restoration supported with an implant is appropriate for you, an implant surgery can be scheduled. Prior to your appointment, your dentist will take x-rays along with other state-of-the-art imaging to make a graph of the ideal place to place the implant(s). The day of the surgery, you'll have to adhere to any directions provided by your team. At Gulf Breeze Dental Care, we provide many methods of sedation to help keep you relaxed during your procedure. When you're ready and your mouth is prepped, a small incision will be made through your gums so they can set the post in your jawbone. This will be repeated if several posts are required. When the implant(s) is set, the incision(s) will be closed with stitches. The visible part of the post(s) could be capped with a temporary cover to protect it as your jaw and gums heal. Your dentist can write a prescription for antibiotics, pain medicine, and/or an anti-inflammatory to help your healing. You should aim to take it easy following surgery and eat a soft foods or liquid diet. You'll have to schedule your next appointment around one week following your procedure to get your stitches taken out and so that your dentist can examine your progress.
It should take approximately 3 – 6 months for osseointegration (your implants healing into your tissue and bone). In this time period, you might be asked to schedule more appointments with your dentist in League City, TX so they can examine your progress and gauge how much time it'll be before your restoration can be placed. After your implant(s) is ready, your dentist will finish the procedure. Although the final visit ought to be pretty simple and cause little to no discomfort, numbing cream together with a sedation method could be administered to help keep you comfy. As soon as your temporary cover is taken off, your team will connect your customized restoration to the post(s) and may make little adjustments as necessary to enhance the overall fit. Before you go home, your dentist will discuss how to best take care of your restoration and implant(s).
HOW TO CARE FOR YOUR IMPLANTED RESTORATION
Among the main advantages of all implanted restorations is they are treated exactly like your regular teeth. You can still eat caramel, corn on the cob, along with other foods without having to deal with your restoration getting pulled out. But, it's crucial to care for your teeth using a home oral hygiene regimen. You must floss and brush at least two times per day. If you want assistance with your cleaning technique, our staff at Gulf Breeze Dental Care is pleased to show you and provide you hints during your appointment. You need to continue to attend your yearly oral health examination and twice-yearly cleanings with your dentist in League City, TX. Sometimes, your dentist will suggest visiting more frequently for examinations or cleanings. Even though restorations attached to implants are durable, you might have to get them replaced. At your examination, your dentist will assess your restoration and implant(s) so that they can recommend whether you will need a replacement.
INTERESTED IN DENTAL IMPLANTS?
Implant-supported crowns, bridges, and dentures can revitalize not just your appearance, but your life. Implant-supported restorations enhance the appearance of your grin and return you to everyday activities like laughing, eating, or even talking with other people without the stress of a hole in your grin or a restoration coming loose. Whether you replace one tooth or a few teeth, implant-supported restorations restore your confidence. To get more information, call our office in League City, TX and schedule an implant and restoration evaluation.