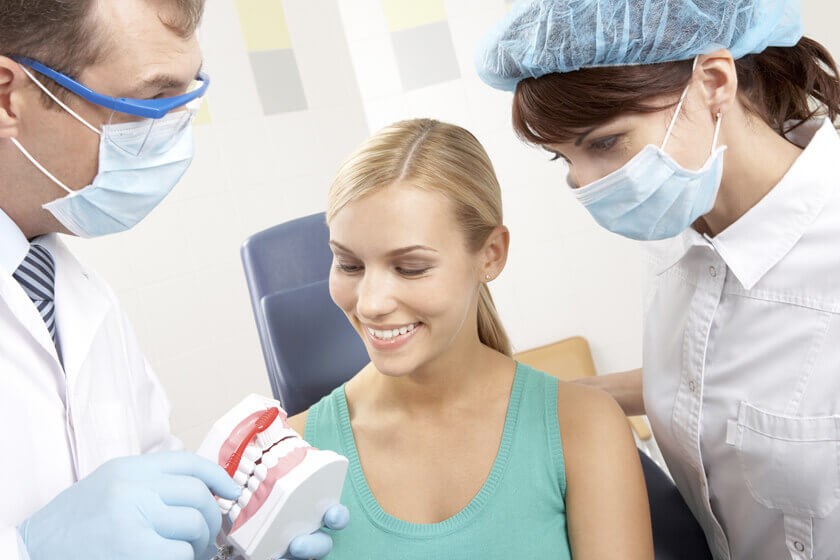 Sticking to a good routine of tooth brushing and flossing each morning and night is necessary to ensure that your smile is in great standing. However, what several people don't know is that teeth cleanings done by a dental hygienist are equally vital to your dental health. Professional teeth cleanings, also called prophylaxis, are a general dental care treatment that eradicates plaque and polishes the teeth. Having your enamel professionally scaled and polished on a twice-yearly basis could keep bacteria, buildup, stain accumulation, and many other conditions controlled. Eliminating the buildup could also get your teeth and gumline into greater shape and freshen your breath.

Seeing the dentist no less than two times annually for dental cleanings is an important aspect of each person's oral care plan. Our experienced team of dental professionals and hygienists utilizes modern methods to perform preventive oral care services and elevate the health and lives of League City, TX patients. When you require a professional dental cleaning or have different oral wellness problems, Gulf Breeze Dental Care strives to be your trusted provider of dental care. We welcome you to browse this piece so you can discover what things you need to know about biannual dental cleanings and the ways this important dentistry service might support your smile, now and well into the long term.

WHAT DO BIANNUAL DENTAL CLEANING SESSIONS ENTAIL?
Your professional dental cleaning at Gulf Breeze Dental Care will be tailored to suit your particular oral requirements. Other preventive oral care procedures can also be performed during a cleaning session to help you receive the most benefits out of your trips to your dentist. These other treatments could include dental sealants or fluoride gel. Dental cleanings by our experienced League City, TX team are detailed and designed to help you attain your best smile.

At the beginning of your appointment, our team will review your medical history
League City, TX people are typically surprised to learn that their oral health can have an effect on their overall physical wellness. Prior to your dental cleaning, your current health situation, along with all drugs or supplements that you've been prescribed, will be carefully evaluated. This will give our staff a greater knowledge of your total physical health and how it can link to your dental standing.

From there, someone on our dental staff will scale and polish your teeth.
The bulk of your routine cleaning session is spent removing food particles and tartar from your teeth. Food particles and buildup provide a home in which harmful bacteria exist and produce acids that can potentially decay some oral structures, including the teeth. The highly trained hygienists at Gulf Breeze Dental Care can carefully scale the plaque and buildup from your enamel to help improve your oral health and minimize the potential for many problems, including tooth decay and gum disease. Discoloraton and stains that have built up on the teeth from caffeinated drinks or different foods might also be polished off to create a brighter and more glowing appeal to your teeth.

Fluoride treatments can be administered to kids or adults who easily develop tooth decay.
A fluoride application is a beneficial solution we provide to help enhance the teeth and safeguard against the development of damage. The product is usually performed for children, but it may also be useful for teens and men and women who display indications of early decay, a tendency to develop cavities, visible tooth root surfaces, and various other areas of concern. To benefit people who may be at a higher risk of developing tooth decay, fluoride could be layered on the enamel at the conclusion of their teeth cleaning session.

HOW REGULARLY SHOULD I HAVE A PROFESSIONAL DENTAL CLEANING?
Professional teeth cleanings are usually suggested a minimum of twice per year. However, people who have gum disease or different oral concerns might require cleanings more often. Our knowledgeable League City, TX staff will identify your needs and help you determine the prophylaxis frequency that's appropriate to ensure your enamel and gumline are in the best shape.

SELECT A DENTIST WHO'S DEDICATED TO THE HEALTH OF YOUR TEETH
The smile is often one of an individual's most beautiful traits. Getting regular dental cleanings is important to make sure that your smile is glowing, visually pleasing, and in its best shape. To achieve this, it's crucial for you to trust a dental practitioner who is just as committed to the wellness of your teeth. The team of oral care practitioners at Gulf Breeze Dental Care is dedicated to elevating the lives of our many patients by using a one-on-one approach to oral care. We invite local patients to reach out to our League City, TX practice when you have time to arrange an appointment for a biannual dental cleaning.