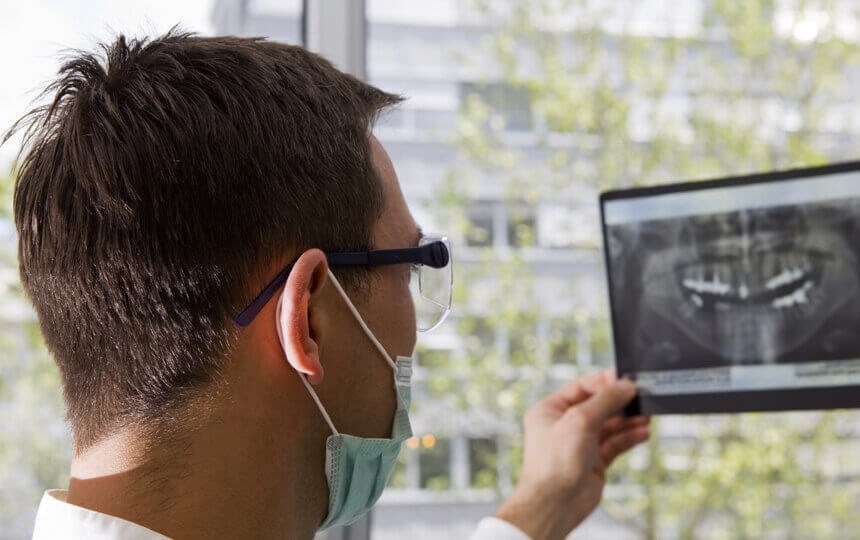 When a person loses an adult tooth because of trauma or an accident, including biting into a solid object, it may be very concerning. Some people are born without a tooth or with a large gap and decide to seek treatment for it at a later point within their lives. For others, tooth loss can also be a sign of poor hygiene or dental care, the aging process, as well as an accident. Thankfully, with aesthetic dentistry, missing teeth can be replaced with the use of multiple dental options, such as dental implants.
Even though there are a number of ways to replace a missing tooth, one of the most ideal methods is a dental implant. Dental implants enable individuals to go on with their normal routines and engage in the routine actions of chewing, laughing, and smiling without worrying about their missing tooth or teeth. A dental bridge is another method to treat a missing tooth. A bridge utilizes a prosthetic tooth, which is attached to healthy teeth neighboring a gap within the mouth. Although the end objective of both a dental implant and a bridge is to reinstate appearance and function, they are vastly different treatment techniques, and the ideal procedure will differ for every patient.
The trained dental professionals at Gulf Breeze Dental Care provide insight into the differences among dental implants and bridges to aid patients in identifying which one is best to adhere to their needs.
EFFECTS OF A LOST TOOTH
Considered a notable problem, a missing tooth may cause surrounding teeth to shift in order to adjust for the open area, changing a patient's overall bite. They may also become crowded or rotated due to the displacement to occupy the space, making it harder to accurately brush and floss. This ultimately can bring about periodontal disease and cavities. For this reason, when a tooth is missing, it should be restored as soon as possible.
WHAT TO KNOW RELATING TO DENTAL IMPLANTS
Essentially a fake tooth, a dental implant has a root that is connected to the jawbone to restore a missing tooth or teeth. It is the most resilient form of dental appliance or option accessible to restore missing teeth. A screw-type appliance or metal post functions as a root that is adhered to the existing jawbone and becomes a sturdy support for a dental implant or crown to be secured on top. Implant-retained restorations are an effective way to rejuvenate an individual's smile or bite by providing replacement teeth, which act like existing teeth and have no dietary restrictions!
An excellent way to replace a missing tooth, an implant feels like a real tooth for League City, TX individuals when smiling, brushing or performing normal everyday activities. Whenever a patient speaks or smiles, it is impossible to notice the difference between their existing teeth and an implant. In addition, dental implants stimulate bone growth by preserving the natural jawbone. Whenever completed by a qualified dentist, including those at Gulf Breeze Dental Care, dental implants are the most secure and the most certain method to receive dental work that presents and feels natural. Implants provide a secure foundation for the permanent appliance of a crown or bridge. After the implanted metal post(s) have adhered to the jaw and gum line, implants provide a stable foundation, which allows patients the peace of mind that their new dental appliance will remain in place similar to their natural teeth. Additionally, an implant gets rid of the concern and uncomfortable feeling of dealing with missing teeth that interfere with having your optimal smile.
The two leading reasons a great deal of patients within League City, TX enjoy their dental implant restorations are that they provide long-term results and they don't harm other surrounding teeth. The titanium posts, stabilized to the jawbone, are made from a substance that will not decompose or decay while providing a durable base to enable you to continue on with regular, everyday activities. Implants are a great dental option to restore missing teeth so individuals can have a more confident smile.
Similar to with your natural teeth, you may brush and floss your dental implant on a daily basis and continue on with your daily activities, eating and drinking whatever you wish. Additional care isn't necessary, and there is no cause to change up your everyday oral hygiene habits.
WHAT TO KNOW IN RELATION TO DENTAL BRIDGES
As its title suggests, a dental bridge is a prosthetic tooth, which is adhered to healthy teeth (referred to as abutments) neighboring a space. A dental bridge works by establishing a bridge over the open space. Bridges are most commonly created with porcelain, metal, or a blend of both. The prosthetic tooth is commonly made of dental porcelain so that it closely resembles your existing teeth.
A conventional dental bridge utilizes the two teeth on each side of the gap, which are trimmed down to make room for the bridge. Then, a dental crown is cemented over each tooth. Also, a bridge may be secured by a dental implant, which is surgically placed in order to keep the device in the optimal position. A fixed bridge that is cemented into place in the mouth and can be an additional option for League City, TX men and women who lose one or a number of teeth. These function like natural teeth and may be long-lasting.
As a fairly fast procedure, dental bridges can also be a cost-effective approach to restore one or more missing teeth. In circumstances where patients have experienced bone loss throughout the jaw, it is not essential to receive an extensive bone grafting process in order to obtain a conventional bridge. Nevertheless, because bridges do not address underlying concerns, including bone loss, such conditions could linger even after the gap is fixed and the aesthetic problem is corrected. For some patients, the bridge can establish more strain on the surrounding abutment teeth. Therefore, bridges may need to be replaced in the future.
If you have lost one tooth or even have multiple teeth missing, dental implants or bridges can enhance your smile and alter your look. Increase your self-esteem and no longer hide behind your lost teeth! The dentists in League City, TX will provide you with a personalized procedure plan to restore your smile and replace your missing tooth with a dental implant or bridge to help you feel good about your smile again. If you are interested in dental implants, contact us or schedule a consultation at Gulf Breeze Dental Care today.