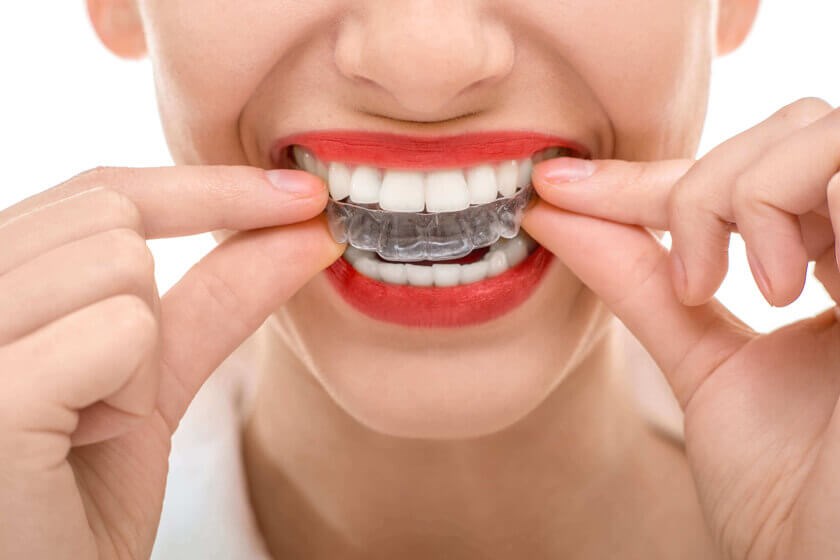 WHAT IS INVISALIGN?
Invisalign is an innovative orthodontic treatment that carefully shifts teeth into the optimal position by means of a series of custom-made clear aligners. Invisalign is a great treatment for teens and adults in League City, TX that wish to enhance the overall appearance and health of their smile minus the visibility and hassle of conventional braces. Our group at Gulf Breeze Dental Care has experience with helping our League City, TX patients get healthier, straighter smiles through customized Invisalign treatment programs. In the following post, our staff at Gulf Breeze Dental Care answers a few of the questions that our patients have regarding Invisalign, such as what exactly does Invisalign help, why many patients prefer Invisalign rather than braces or other aligners, cost of Invisalign aligners and retainers, why it's important to use a retainer following teeth straightening, and much more. After you have read our blog, schedule an appointment so you can ask additional questions or if you want to discover if you are a great candidate for an orthodontic treatment using Invisalign.
WHAT CAN INVISALIGN IMPROVE?
Invisalign can correct a wide assortment of problems from men and women who only want straighter teeth to individuals who should fix serious alignment problems. At your first appointment, your dentist should do a bite assessment and decide whether you've got an underbite, overbite, open bite, or crossbite. Invisalign may also fix issues with gapped or crowded teeth. Regardless of what problem that you have with your dental alignment, your dentist will form a customized Invisalign treatment program to enhance your alignment and improve the appearance of your smile.
WHAT ARE THE BENEFITS OF INVISALIGN RATHER THAN METAL BRACES?
Among the primary benefits of Invisalign compared to braces is that virtually nobody will be able to see you're wearing them. The aligners are clear so that they are practically invisible whereas traditional braces are both obvious and bulky. Invisalign may also be taken out to make flossing, brushing, and eating easy. Every Invisalign aligner is made custom for your bite to shift your teeth into their proper position. There aren't any brackets or wires to tear and poke the sensitive soft tissue in your mouth.
WHAT ARE THE BENEFITS OF INVISALIGN COMPARED TO OTHER ALIGNER BRANDS?
In recent years there are lots of brands of aligners available on the market that are attempting to compete with Invisalign. A few of them even let you to purchase clear aligners out of your house without visiting the dentist. Although this might be easy, the expertise and skill of a dentist together with the durable materials and innovative Invisalign system will have a big effect on your results. In contrast to other aligner treatments, Invisalign generally fits better and produces quicker results. Although other brands might be less expensive, you're most likely going to sacrifice comfort and quality for outcomes that might not last.
WHAT DOES AN INVISALIGN TREATMENT COST?
The price for your Invisalign will be different depending on the number of aligners you will need to accomplish your objectives. At your first appointment, your Invisalign team will evaluate your alignment and build your customized treatment program to fit what you need. They'll discuss the number of Invisalign sets you'll need throughout the duration of your treatment and this will be used to create your cost estimate. When you've got insurance, our staff at Gulf Breeze Dental Care will get in touch with your provider to verify your coverage and give you a much better estimate of your personal cost.
WHAT'S THE COST OF AN INVISALIGN RETAINER?
The price of your retainer ought to be part of the price of your Invisalign therapy. Your dental team can go over your teeth straightening program and prices in your first Invisalign appointment. If you've got dental insurance, then a portion of your Invisalign therapy and retainer could be covered. In case you do not have insurance or your Invisalign isn't covered, you could use your HSA (health savings account) or FSA (flexible spending account) through your medical insurance. Several dental offices in League City, TX provide payment plans or else they will be able to assist you in finding financing, which can help make an Invisalign treatment more affordable.
HOW IMPORTANT IS IT TO WEAR MY RETAINER?
Once your teeth straightening treatment is completed, your teeth will be in the right place; however, your gums and jaw still have to adapt to the shift. That is the reason why it's essential to get and use your retainer. Custom made from the same clear, comfortable material as Invisalign aligners, retainers ensure that the improvements from your Invisalign last for quite a while. Many adult patients who have Invisalign had braces as a kid but did not use their retainers and this allowed their teeth to move out of place and they require another treatment. That is the reason it's extremely vital that you get a Vivera retainer and use it as frequently as advised by your dental team.
WHAT SHOULD I DO IF I LOSE MY RETAINER OR AN ALIGNER?
In the event you damage or lose your Invisalign aligner or retainer, inform your dentist immediately. It is very important to get a new one to prevent any delay during your therapy from a missing aligner or allowing your teeth go out of place following your treatment in case you aren't wearing your retainer. A replacement retainer or aligner is readily created for you in the Invisalign lab according to your newest impressions. Don't attempt to jump to your next set of aligners or quit using your retainer as this might have serious consequences on your alignment.
SCHEDULE YOUR INVISALIGN CONSULTATION
If you've gaps, crowded teeth, an overbite, underbite, crossbite, or a different sort of alignment issue, the dental practitioners at Gulf Breeze Dental Care will explain your treatment choices for a straighter smile. At your consultation at our practice in League City, TX we will answer any your questions and any worries regarding Invisalign so we create your customized treatment program.