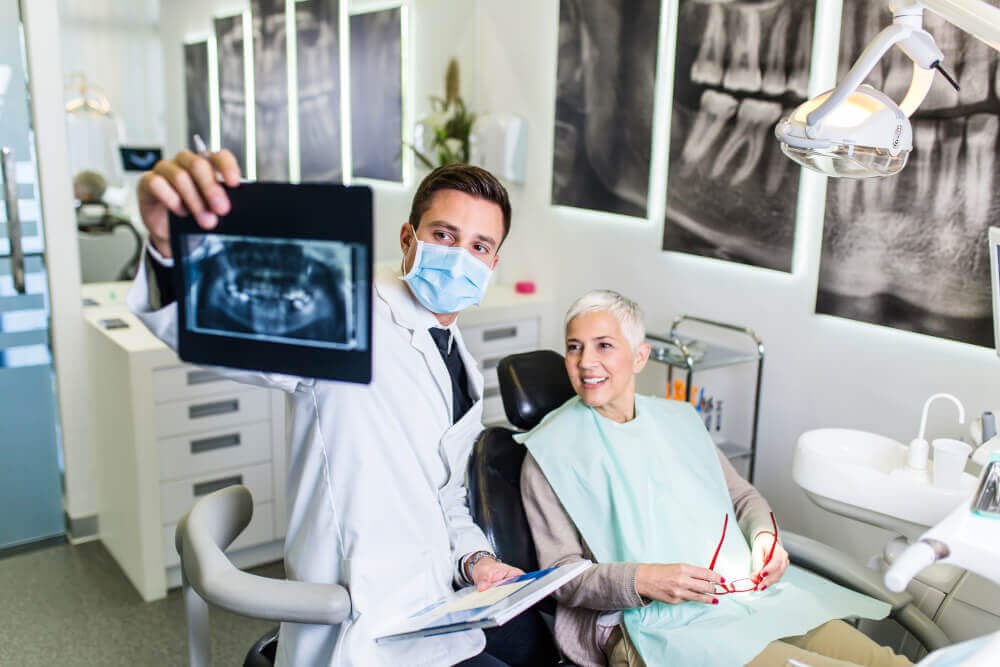 UNDERSTANDING ROOT CANALS
While you may not understand what root canal therapy is, you most likely do not want to get one. Root canal therapy has become associated with pain, but contemporary root canals are quicker, more efficient, and because of sedation choices, you don't need to think about suffering through any pain. There is a great deal of mystery about root canals – What exactly is a root canal? Who gets a root canal? What can root canals fix? Find out more about the fundamentals of root canal treatments in this blog, then reach out to a dentist in League City, TX to schedule an exam.
WHAT DOES A ROOT CANAL TREAT?
Your teeth are composed of the crown (the part of that's visible) along with the roots (the tips attached to your jaw and held in position by gum tissue). The enamel is the tough exterior of the teeth that covers the pulp inside (nerves, blood vessels, and soft tissue). After the tooth is damaged, then it allows germs to infect the pulp. Whenever your tooth gets infected (also known as an abscess), a root canal is necessary to treat the disease. If you don't have a root canal, the disease could destroy the tooth then infect whole mouth, and eventually, your body.
WHAT CAUSES A TOOTH INFECTION?
CRACKED TOOTH
When a tooth is cracked, it ought to be repaired as soon as you can using a crown or filling. A crack permits bacteria and irritants to get in and infect the soft pulp inside the tooth.
UNTREATED CAVITY
A dental cavity is caused by acidic bacteria and it erodes the enamel. When a cavity isn't sealed using a crown or filling, the erosion and disease can get to the dental pulp.
CHIPPED TOOTH
Even if a chipped tooth may not seem bad or create pain, the tooth still has to be treated. A chip weakens the tooth and may expose the pulp to disease.
SYMPTOMS OF AN INFECTED TOOTH
TOOTH PAIN
Lasting pain in at least one of your teeth is an indication of an infection. The pain typically becomes worse whenever you eat.
TOOTHACHE
A toothache, whether it's dull or sharp, may be a sign of a tooth infection. You need to schedule a consultation with a dentist soon when you've got a toothache.
SENSITIVITY IN YOUR TEETH
A lot of people experience occasional dental sensitivity to cold or hot foods and beverages; however, if the problem doesn't go away, it could be a sign of an infected tooth. The weakened enamel lets irritants and air to reach the nerves.
INFLAMED GUMS
Gum tissue near an infected tooth can look swollen and dark. This also signals that the disease could be spreading to your gums and other teeth.
SWELLING IN YOUR FACE AND NECK
As soon as your immune system is battling an infection, the lymph nodes in your throat swell up. If the disease is spreading outside of your tooth, you might also see some inflammation in your face.
FEVER
A normal reaction to any disease is a fever. An infection in your tooth may lead to a fever.
PERSISTENT BAD BREATH
Having bad breath that still doesn't go away once you clean your mouth is an indication of an abscessed tooth. The germs in your tooth gives off an odor that won't disappear until the disease is addressed.
PRE-ROOT CANAL PROCESS
In case you notice signs of an infected tooth, then schedule an oral health exam with a dentist in League City, TX. Inform your dentist about your worries and how long you've experienced symptoms. They might get digital x-rays and use other equipment to identify your issue. If your tooth is infected or abscessed, your dentist might suggest a root canal. At Gulf Breeze Dental Care, we provide a few sedation options, including nitrous oxide gas and also oral-conscious medication, to help you stay relaxed and comfortable throughout your appointment. These choices must be determined before scheduling your root canal so that you will know whether you're able to drive following your treatment.
WHAT HAPPENS WHEN YOU GET A ROOT CANAL
After you arrive at the dentist for your root canal, you'll be escorted to a treatment area where your team can help you get comfy. If you took an oral-conscious medicine, this should begin to help you relax. Patients getting laughing (nitrous oxide) gas will have a hood put on their face, so they can begin to breathe the gas so it can start to relax you. The surrounding tissue will be numbed and a dental dam can be placed to help keep the area dry and clean during the process. To start your root canal, the decayed enamel will be removed out of the tooth. Next, they will suction out the pulp, then they are going to wash out and disinfect the inside. The tooth will then be filled with a compound made from rubber paste and sealant. When the tooth has been cleaned and sealed, your dentist will generally set a crown over the tooth for protection and strength.
FOLLOWING YOUR ROOT CANAL
Following a procedure, you should take it easy for the rest of the day. Your teeth can feel somewhat sensitive and sore, therefore many patients would rather have a soft or liquid diet. You need to clean your mouth with careful brushing plus mouthwash. Your dentist can prescribe antibiotics and/or pain medicine to help you heal and recover. Your dentist will most likely request that you schedule a follow-up exam so they can confirm the infection is gone.
OR JUST DON'T NEED A ROOT CANAL
The smartest thing you should do in order to prevent a root canal is go to your appointments with your dentist in League City, TX two or more times each year to get an exam and cleaning. During examinations and cleanings, your team will look for problems like cavities and cracked or chipped teeth that could cause an infection. By fixing the smaller problem, you can prevent an infection, which would lead to a root canal. It's also wise to make certain that you're flossing and brushing your teeth properly two times per day in your home. If you want advice on technique or you would like to make an appointment for an examination and cleaning, then contact Gulf Breeze Dental Care. Our experienced staff is here to help improve the health and look of your smile so that we don't need to perform a root canal on you.