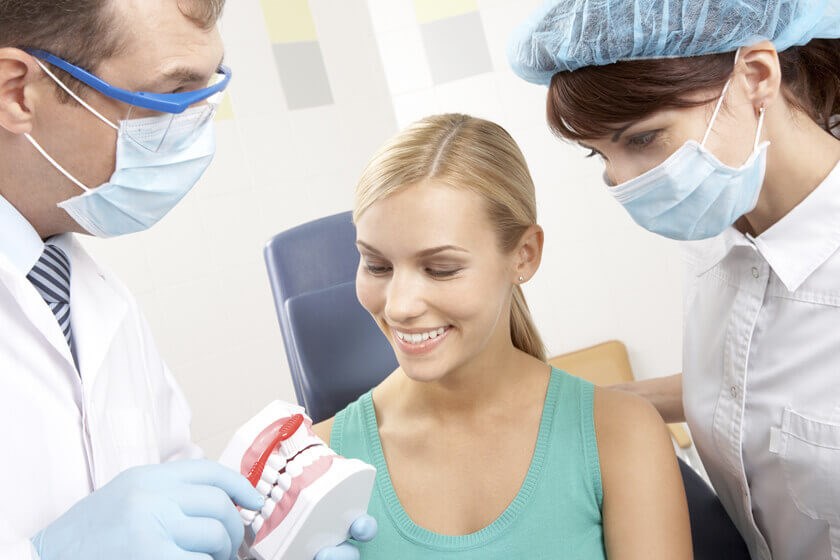 The smile is often the initial thing anyone will notice when meeting someone new. A gorgeous smile is often one of a person's most attractive characteristics. We frequently watch media plugs and digital promotions that show beautiful actors who have dazzling and bright smiles reminding us to brush and floss no less than two times every day. Even though you might be doing this, do you honestly stay aware of how you care for your pearly whites?
You have around 300 – 700 kinds of bacteria taking refuge inside of your mouth. If you fail to brush your teeth correctly, the bacteria can stick to bits of food and plaque deposits, which, later on, results in tooth decay and many other dental problems. When you fail to brush your teeth every day, or if you forget to stay aware of how you are brushing your teeth, you could potentially increase your likelihood of developing tooth decay, gingivitis, as well as jaw and gum tissue recession between your teeth.
Good oral wellness begins with practicing the right techniques. As easy as brushing your teeth might feel – after all, you've doubtless been doing this task from the time you were a child – barely any adults, teens, or children take care of their teeth as proficiently as needed to maintain their oral wellbeing. While you could be making errors while you brush and floss, you have ways to resolve them. To help end dental health concerns before any long-term circumstances can occur, you should arrange a dental consultation with one of our dentists at Gulf Breeze Dental Care in League City, TX no less than one time per year.
When you stop for a minute and think about your tooth brushing methodology, is it possible that you might be making several brushing mistakes while not even realizing it? If one or more of the mentioned errors sound like you, Gulf Breeze Dental Care in League City, TX can help you learn correct oral habits for the time to come.
NEGLECTING TO CHANGE OUT YOUR TOOTHBRUSH FREQUENTLY ENOUGH
Our staff of dental practitioners at Gulf Breeze Dental Care advises everyone to upgrade their toothbrush after three to four months. Ragged and weak toothbrush bristles will not be able to help keep your teeth free of plaque. Over time, toothbrush bristles lose pliability and aren't fit to effectively remove the plaque from your mouth. Additionally, bacteria and plaque can gather on a toothbrush due to prolonged usage, which can create numerous oral problems. Make sure to remind yourself to get a new toothbrush at least every few months.
TRY NOT TO CLEAN YOUR TEETH TOO BRIEFLY
Spending just sixty seconds to clean your teeth is a big mistake. The average amount of time a majority of patients devote to cleaning their teeth is 40 – 60 seconds; this is just not at all a good length of time. The team at Gulf Breeze Dental Care advise everyone to clean their teeth for at least two minutes two times a day. Any time below that does not allow the fluoride in your toothpaste ample time to work its way into the enamel. To make sure that you're devoting a good deal of time to caring for your teeth, use the stop watch on your smart device each time you brush.
DON'T CLEANSE YOUR MOUTH AFTER CLEANING YOUR TEETH
Most of us are potentially guilty of cleansing our mouths when we have finished brushing our teeth. As a matter of fact, rinsing out one's mouth tends to be a regular behavior for most patients. However, it significantly decreases the effectiveness of the fluoride in your toothpaste, including its ability to protect your teeth from damage. In place of water, reach for a mouthwash containing fluoride to wash out your mouth when you're done brushing.
RESIST CLEANING YOUR TEETH TOO VIGOROUSLY
"More forceful" is in no way better concerning cleaning your teeth. A tender technique is the only thing you need to brush your teeth effectively. While you may be under the impression that cleaning your teeth more aggressively will remove more of the germs and debris that result in tooth decay and other dental issues, the reality is that it will often lead to other concerns. Too much pressure could in reality promote weakened gums. Instead of brushing aggressively, cleaning your teeth should be similar to a gentle massage.
KEEP YOUR TOOTHBRUSH IN AN UPRIGHT POSITION TO AIR OUT ONCE YOU'RE THROUGH WITH BRUSHING
Our dental professionals at Gulf Breeze Dental Care advise everyone to store their toothbrushes bristle end up and allow them to get plenty of air. If you store a recently used toothbrush in a closed off jar, it could grow harmful germs.
TRY NOT TO USE TOOTHBRUSH BRISTLES THAT ARE TOO HARD
Some men and women believe that stiffer toothbrush bristles are more effective for brushing teeth, since the bristles are what removes dangerous germs and food particles from the teeth. Despite this, firm bristles are never best in terms of cleaning your teeth. Hard bristles could wear down the strength of the teeth by eliminating the protective film of their enamel]. As a result, you might wind up with heat and cold sensitivity. This refers to when your teeth react if you eat something too hot or cold. Firm bristles could also eventually break down your gum tissue. The dental practitioners at Gulf Breeze Dental Care would be pleased to recommend the right products for your optimal dental wellbeing.
QUIT PRACTICING POOR BRUSHING TECHNIQUES
Proper brushing technique has a significant effect when it comes to cleaning your teeth. To achieve a thorough clean, you need to focus on multiple places, such as the front, back, top, and bottom surfaces of the teeth. Additionally, the gum tissue, tongue, and the palate of your mouth need to be tended to. Our dental professionals at Gulf Breeze Dental Care tell people of all ages to practice these important guidelines:
It's important that the toothbrush targets both your teeth and gums.
YOU SHOULDN'T OVERLOOK THE VALUE OF FLOSSING YOUR TEETH DAILY
To maintain your oral wellness, it's important to floss each day. Flossing your teeth daily helps to eradicate the plaque that lies between your teeth, particularly in areas where your brush is not able to reach. Food debris that is not removed morphs into solid deposits along your teeth and gumline, which can lead to all sorts of oral problems.
START USING PROPER TOOTHBRUSHING PRACTICES NOW
Generally, it can take 6 – 8 weeks to learn better behaviors. Attempting to introduce at least one worthwhile change to your brushing technique every week might be productive in the long term. Utilizing proper brushing methods along with making biannual trips to Gulf Breeze Dental Care in League City, TX will ensure your lasting oral wellness, plus lower your potential of requiring extensive dental treatments in the future. Get in touch with our team of exceptional dentists at Gulf Breeze Dental Care. We provide a full array of general dental care and advanced treatments for your entire family.