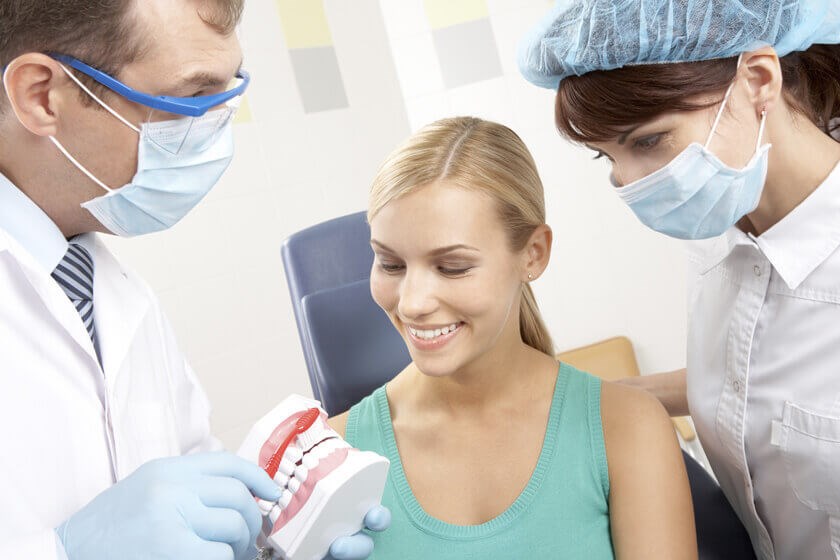 Finding a dental professional in League City, TX to best fulfill your family's dental health requirements can assist in ensuring that you obtain the most desirable treatment options for your smiles. Comparable to a family doctor or primary medical care provider, a general dentist acts as the fundamental practitioner in caring for your general oral health, ranging from preventive services to cosmetic and restorative techniques. A primary dentist may administer care to patients of all ages to maintain and enhance oral health and function, as well as the cosmetic appearance of their smile. While a general dentist is experienced and knowledgeable about overall dentistry, he or she are able to collaborate with specialists in cases where certain kinds of care are necessary that may be better provided with more specific expertise.
With their extensive experience, our general dental professionals at Gulf Breeze Dental Care is highly qualified and equipped to administer optimal care for you and your family. We are happy to collaborate with you to deliver health to your smile. Dental health and the look of your smile may greatly impact your general health and quality of life. Dedicated to providing your family with the utmost level of comprehensive general dentistry, we provide a complete range of services to keep you and your family's teeth and gums feeling and appearing their absolute best.
The Scope Of Primary Dentistry Care
Useful for individuals of all ages, primary dentistry is a field that cares for a broad range of oral health concerns. A general dentist evaluates oral issues, which affect the gums, teeth, jawbone, jaw joints (temporomandibular joints, or TMJ), and soft tissues in and throughout the mouth. Although the prevailing objective of general dentistry is to maintain the natural dental structures for ideal function, a general dental professional strives to meet the specific needs of each patient by way of effective diagnoses and treatments. General dentistry treatments consist of professional dental cleanings and exams, digital x-rays, fillings, dental crowns and bridges, partial or full dentures, gum disease treatment, sealants, fluoride, and athletic and nighttime mouth guards, along with other categories of treatments.
Studies And Expertise
Beyond a four-year undergraduate degree, general dentists have four years of advanced education in the dental field. Throughout their period spent in a dental school, a general dentist is extensively trained and well-educated in a strict program that has both educational and hands-on learning. Dentists must then pass a comprehensive exam to become certified in their particular states. To preserve what they have learned and remain current with the advancements in the field, general dentists often attend continuing training courses every year.
Qualities To Look For In A General Dental Professional
If you are trying to find a dental professional in League City, TX, it is important to think about several aspects. Finding a dentist who makes you remain relaxed and understands your worries may be very valuable in getting treatment that is specialized for you. It does not matter what period of life you may be in, a general dentist can aid you in obtaining all of your dental requirements and enjoying a gorgeous smile. Meeting a general dentist who remains up to date with the advancements in dental procedures and approaches can further bring a high level of care to your dental health. A number of general dentists also provide aesthetic and reconstructive dentistry procedures to reinstate the appearance and function of your smile. If you have aesthetic concerns about your smile, picking a practice that performs the latest advancements in aesthetic services might also be essential in obtaining your smile goals.
Why You Should Go To A General Dentist
Going to a general dental professional for regular dental services and as necessary to enhance your oral health has advantages that go further than the health and appearance of your smile. Many research studies have identified a link between oral disease and systemic problems throughout additional areas of the body. Keeping up with optimal oral health could also help your overall well-being and may even improve your quality of living. At Gulf Breeze Dental Care, we aim to allow you to enhance your oral health to a level that promotes a healthy life. Consulting at our general dentistry practice also allows you to get a range of dental health conditions dealt with from the convenience of a central facility. Here, you can get the kind of dental treatment your family needs throughout every stage of life, from adolescence to the older adult years. Routine dental treatment and exams help our team to evaluate oral issues and provide immediate intervention when needed, generally reducing your need for extensive and costly treatment down the road.
How To Know If You Need To See A Dentist
When it has been some time since you have taken a trip to visit the dentist, then it is an excellent idea to call us for a comprehensive dental exam to find out more about any future oral health problems. Although some oral issues show symptoms or are visually noticeable, others may be hiding below the exterior of the teeth or gums, causing damage without you being aware of it. Regular visits, at least every six months, are suggested for in-office dental cleanings and checkups to maintain optimal oral health and find out more about any treatment needs as soon as possible. Our League City, TX dentists can then let you know if more care is needed to elevate your dental health. Creating a longstanding relationship with our general dental professionals can also better serve your needs if a dental emergency arises and you or your family need fast treatment.
Identifying The Ideal Family Dental Practice
Our team at Gulf Breeze Dental Care wants to help you and your loved ones to get the general dentistry treatment you require for a lasting smile and excellent oral health results. We work to help all of our patients feel welcome and comfortable, from the initial phone call to each visit afterward. To manage your issues in the most complete way, our team offers an individualized approach to your oral health and suggests the services that are best for your unique smile. For advanced, personalized dentistry in a caring environment, make a consultation with our League City, TX dental center and find your new general dentist.