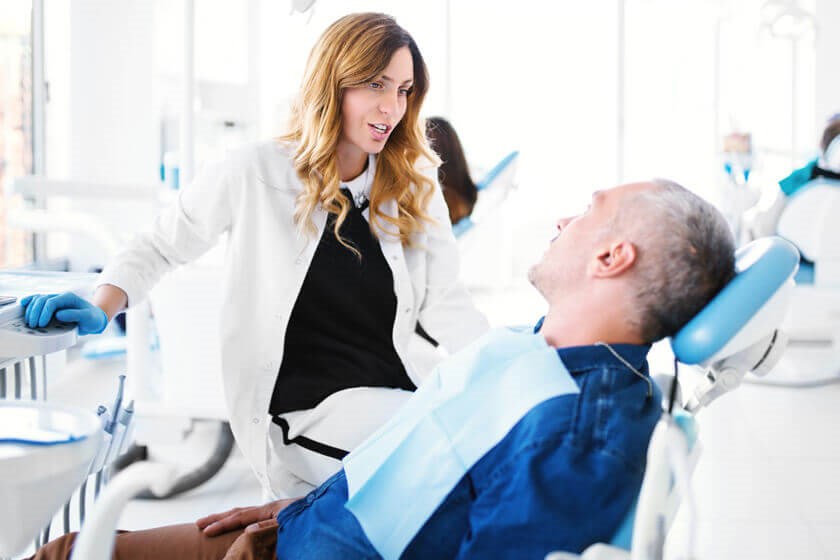 The removal of wisdom teeth is a routine procedure among dental patients. A crucial procedure for a great number of League City, TX individuals, wisdom tooth extraction may help to improve your dental health and comfort. Removing wisdom teeth may not be essential in all cases, but it may be suggested to diminish problematic issues or preserve the complete health of the mouth. If you or members of your family are wanting relief from wisdom tooth pain and require extractions to improve or maintain your dental health, you may be curious about the procedure and recovery process. Gulf Breeze Dental Care is pleased to offer the below facts about what to anticipate regarding wisdom teeth extraction and the recovery process.
SYMPTOMS OF TROUBLESOME WISDOM TEETH:
Several symptoms may be associated with unhealthy wisdom teeth, including oral and facial swelling, painful wisdom teeth, and pressure in the jaw. Additionally, you may also experience difficulty when eating, trouble with opening your mouth, and halitosis.
WHY WISDOM TEETH MIGHT HAVE TO BE REMOVED
Sometimes known as the third molars, wisdom teeth develop in the back of the mouth. Even though the majority of people have two upper and two lower third molars, a number of individuals only get between 1 – 3 wisdom teeth. Wisdom teeth are often not used for oral function and could be problematic for surrounding teeth or general oral health. During our patients' early teenage years, our team will begin evaluating the location and development of the wisdom teeth with panoramic images or similar x-rays. If they aren't on track to erupt properly or are creating harm to neighboring tissues, wisdom teeth are frequently removed when patients are around the ages of 17 – 21.
BEFORE AND DURING YOUR REMOVAL PROCEDURE
During your procedure consultation, our League City, TX team of dental professionals may obtain an x-ray of the jaw and discuss your choices for oral anesthetic and sedation methods. Before your procedure, we will deliver your chosen sedation technique and numb the back of your mouth for your comfort. Next, our team will utilize innovative surgical methods to gently take out your wisdom teeth (usually all during the same visit) while diminishing the effect on surrounding teeth, gum tissues, nerves, and jaw.
FOLLOWING YOUR WISDOM TEETH REMOVAL: THE HEALING PROCESS
Whether you require extractions to address affected teeth, a wisdom tooth infection, or additional concerns, having unhealthy third molars removed is able to offer pain relief. Complete healing after a wisdom tooth extraction procedure could take up to several weeks, but you will start to feel improvements with each passing day. It is crucial to pay special attention during this period to allow for effective healing. Our dental professionals at Gulf Breeze Dental Care recommend that you stick to the necessary instructions as you go through the wisdom teeth extraction healing process.
DIRECTLY FOLLOWING THE EXTRACTION
In instances when you receive your wisdom teeth removal with sedation techniques, you will require a capable adult to drive you home and stay with you until the sedation fully wears off. You will probably feel tired and might sleep for the next few hours. At the time you are released, your removal sites will be protected with gauze, which will need to be changed multiple times throughout the next day. Do not be worried if your removal sites bleed some for the next few days. This is normal and expected.
OBSERVE SPECIFIC AFTERCARE GUIDELINES
Following your extractions, you will be provided with the appropriate post-op instructions by someone on our dental team. These instructions are imperative to follow to ensure a smooth, comfortable recovery period. You need to be sure to take the medications prescribed by our dental team precisely as recommended and contact our League City, TX team as soon as possible if you notice any unusual discomfort, excessive bleeding, or additional concerns. Instructions on ways to properly care for your mouth as you recover will also be provided to you.
FOLLOW-UP APPOINTMENT
Our dental team will make a follow-up visit about 1 – 2 weeks after your initial procedure so that our dentists can evaluate your recovery and progress. It may take multiple months for the bone tissue to fill back in the area where your wisdom teeth were located. Our team can give you advice on the ways to best not allow food to collect in these sites to preserve the health of your mouth and diminish the risk of dental problems.
FIND A CERTIFIED DENTAL PRACTICE FOR YOUR WISDOM TEETH REMOVAL
Our dental team at Gulf Breeze Dental Care specializes in removing wisdom teeth to increase oral health and wellness. If you or a family member have a wisdom tooth infection, not enough room for ideal development, or are just seeking relief from wisdom tooth discomfort, we encourage you to make an appointment with our dental team for a treatment consultation.