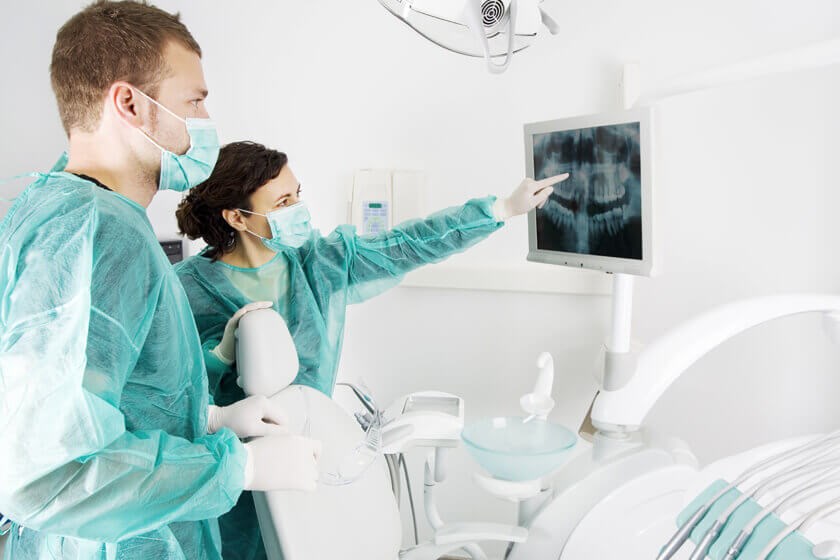 Individuals who have lost one or two teeth aren't alone: Some men and women in League City, TX could notice themselves experiencing oral health conditions that can lead to missing teeth. As a matter of fact, around 175 million – 180 million Americans have experienced the loss of one tooth or many. Losing any number of the natural teeth causes negative effects that typically harm your dental wellness and self-assurance. When teeth are extracted due to deterioration from extreme tooth decay, bone loss, or other oral issues, filling the gap immediately provides the ideal situation for your teeth and wellness. Dental implant restorations are currently a preferred solution for substituting permanent teeth because of their enduring wellness and visual positives. The dental professionals at Gulf Breeze Dental Care have years of advanced experience in dental implant solutions. We will help you determine your preferred tooth replacement technique for your unique needs and visual aims and whether implants are the best direction for your oral health.
THE MOST EFFECTIVE SOLUTION WHEN IT COMES TO REPLACING TEETH
Praised for their extraordinarily life-like structure, dental implants are unique from any other tooth replacement techniques performed today. Implant dentistry offers a wide range of tooth replacement services and could restore anything from a single lost tooth to a whole mouthful. Patients who are looking to switch from dated tooth restorations to a more reliable solution may be suitable candidates to receive this popular treatment. Numerous patients are turning to implant-supported restorations to bring functional capabilities, health, and cosmetic appeal back to their smiles. Implants look, feel, and work very much like real teeth. With characteristics that closely mimic those of real teeth, it's no wonder that dental implants are thought to be the "gold standard" in tooth replacement.
EXPLAINING HOW DENTAL IMPLANTS FUNCTION
The carefully created design of the implants imitates the structure of natural teeth. Implants consist of durable metal posts that act as an imitation tooth root, as well as natural-looking crowns that restore adequate shape and function to the smile following tooth extraction or loss. Over a time-frame of 3 – 6 months, the metal posts go through a fusion system in which they integrate with the jawbone and become a fixed component of the mouth. Metal posts are incorporated within the bone to take the place of a tooth root for better stability and exceptional support.
IMPLANTS PROVIDE LONG-TERM OUTCOMES
In regard to to replenishing lost teeth, numerous people seek a treatment that provides lasting outcomes. Implant-based solutions are the only tooth replacement solution that integrates with the bone, replicating real tooth roots. The process of osseointegration provides a reliable foundation, allowing dental crowns to stay in place. The titanium posts are immune from deterioration and virtually never need replacement, which means a person will benefit from a healthy smile for far into the future. If implant-supported restorations are positioned by a thoroughly experienced professional who implements the latest methods, the procedure boasts an incredibly high success ratio.
ENJOY SEVERAL COSMETIC PERKS
An attractive trait of dental implants is the carefully designed aesthetic attributes this tooth replacement solution gives to individuals. Our staff at Gulf Breeze Dental Care crafts individualized implant restorations that vary in shape, size, and color to mix flawlessly with surrounding teeth. Implants resemble and feel like natural teeth. Because of this, they're almost entirely indistinguishable from real ones. Fixed restorations could also help people keep a normal jawline contour and eliminate the facial sagging that often occurs when teeth are absent. Individual implants that use crowns take the place of single missing teeth, while implant-supported bridges and half- or full-arch dentures are used to manage the loss of an entire arch of teeth. As a matter of fact, men and women should know that even an entire mouthful of missing teeth might be effectively replaced with a natural-looking, full-arch denture.
IMPLANT-SUPPORTED SOLUTIONS MAY ELEVATE YOUR QUALITY OF LIFE
Receiving dental implants as an answer for tooth replacement will often offer numerous enhancements to general quality of life, particularly for those who have been suffering from lost teeth or have had damaged teeth for a long period of time. Because the metal screws are positioned firmly within the jawbone, implants can achieve a notably strong biting function. Dental implants never move, rock, make noise, or slip: They also don't call for adhesive products to remain in position. Because dental implants are held in their position with a reliable metal piece within the bone, these restorations can enable individuals to bite, chew, and carry on conversation comfortably. Patients who choose this solution will get to enjoy their most-treasured foods and smile with a new sense of confidence and not have to be concerned with the state of their overall health.
ARE YOU A CANDIDATE TO RECEIVE DENTAL IMPLANTS?
Implant-supported restorations are a sought-after solution for people wanting to gain back their smile, ease of living, and oral health after the absence of adult teeth. Implant-based solutions are custom-made to reestablish the beauty and function of the smile. Though great for a number of people, dental implants do need enough bone support and healthy gums to serve their purpose. If bone loss and other issues are preventing you from being a good candidate for fixed implant restorations, our staff might recommend advanced operations to enhance the state of your dental/oral wellness and develop an environment for implant success.
If your dental wellness has been affected by lost teeth, dental implants may be a great solution for tooth replacement. Our staff at Gulf Breeze Dental Care is eager to identify your personal concerns and aid you in determining if implant-supported restorations might be appropriate for your dental health. We invite you to call our League City, TX facility as soon as possible and start the path toward enjoying a higher life.