What Is Periodontal Disease Treatment?
Many kinds of oral disorders, including disease, can potentially affect a person's general wellness. Often called disease, disease is a continually worsening gum infection that impacts a vast number of Americans annually. Stemming from damaging dental bacteria, gum disease is thought of as a major factor in loose or missing teeth for older patients and can be linked to a range of worrisome overall health issues. These bacteria live within tartar deposits that collect on the enamel and secrete toxins that may start to harm the gumline, jawbone, and various other structures that keep every tooth in its correct position.
Periodontal disease is generally distinguished by three different levels; the first stage of gum disease is gingivitis, then periodontitis. The last and most serious level of the disorder is called advanced periodontitis. Diagnosing and addressing gum disease immediately could help stop the damage and protect your teeth and gums. notice signs like sensitive or red gum tissue, bleeding while brushing and flossing, or persistent sour breath (also called halitosis), periodontal disease might be harming dental health.
Dr. Dentist Two at DentalWorks - Hyperlingo performs several efficient techniques to treat gum disease, regardless of its severity. Reach out to our office in City, ST soon to set up your biannual comprehensive dental assessment and find out about your solutions to stop gum disease.
Candidates for Periodontal Care
People who probably need treatment for gum disease those who notice even slight gum tissue swelling and bleeding anyone with shifting teeth and prominent wear to the close-by oral tissues. In circumstances when periodontal disease is diagnosed and addressed in its early stages, people have better potential to reduce the disorder's negative impact. A lot of people experience bleeding gums and puffiness, which might be thought of as natural. Despite this, bleeding and various other indications of gum disease are not commonplace and must be assessed immediately by or someone on their team.
We ask people to schedule a visit to DentalWorks - Hyperlingo if they experience one or more of the probable symptoms of periodontal disease. This can comprise swollen, discolored, or sensitive gums, as well as bleeding while brushing or flossing. Persistent foul breath or a vile taste in the mouth could be a sign as well. Individuals suffering from later-stage periodontal disease may experience loose teeth, elevated discomfort, a weakening gumline, or pus between the gums and teeth.
How Is Gum Disease Treated?
Discovering and addressing gum disease when first symptoms arise could be essential to maintain the state of your smile. To know if gum disease is deteriorating your oral health, our dental professionals will use a specialized device to measure the spaces between your gums and tooth roots. If these pockets are bigger than 3 millimeters deep, it might be a matter of concern. Oral x-rays will also allow to gauge the level of bone tissue securing each tooth and find out if a later stage of gum disease has begun.
At DentalWorks - Hyperlingo, we utilize comprehensive tests to identify your current phase of periodontal disease and will create a suitable course for treatment. The starting stage of gum diseasegingivitis is generally treated with an in-office cleaning and consistent at-home oral hygiene. To address periodontitis, the middle stage of gum disease, (also known as) therapy is done over a period of time and coupled with externally applied antibiotics. Progressive-phase cases of gum disease could be more effectively treated through a surgical option, like flap surgery or jawbone transplant treatments.
Maintaining a daily oral care system is vital after your periodontal disease has been taken care of. During your session, and their staff will provide you with helpful advice to boost your daily brushing habits and take care of your dental health. We will then supply you with helpful post-treatment instructions to you recover following your treatment effectively. Thorough upkeep cleanings, which tend to be critical in you preserve your teeth and gum wellness and in hindering active periodontal infection from returning, are commonly advised every 3 – 4 months. These appointments at DentalWorks - Hyperlingo act as your twice-yearly dental cleanings.
Is Periodontal Treatment Covered by Insurance?
Cost coverage for periodontal solutions often vary depending on your personal policy. Our financial personnel will get in touch with your policy carrier to ascertain your coverage before we performs your treatment. 's staff at DentalWorks - Hyperlingo works hard to make periodontal care as accessible as it can be and accepts a number of payment solutions, like individual financing, to any leftover portion fit comfortably within your budget.
#1: Why is flossing your teeth so important?
Flossing your teeth twice a day helps to prevent tooth decay, or cavities. Regular use of dental floss can also reduce the risk of developing gum, or periodontal disease by removing food particles as well as a sticky substance called plaque that builds up on your teeth.
#2: What is gum/periodontal disease?
Periodontal or gum disease is an infection of the tissues that hold the teeth in place. It is caused by poor brushing and flossing habits that enable a sticky film of bacteria called plaque to build up on the teeth and harden. Periodontal disease can lead to swollen and bleeding gums, issues with chewing, and tooth loss.
#3: What are the symptoms of gum/periodontal disease?
The symptoms of gum disease are not always obvious until it has progressed to a more advanced stage. Consider seeing your dental provider if you suspect that you have any of the following symptoms associated with gum disease:
Swollen, red, or tender gums

Pain in your mouth

Bleeding when brushing or flossing your teeth

Gums have receded or pulled away from your teeth

Pus between your gums and teeth

Mouth sores

Chronic bad breath

Loose or separating teeth

Teeth that no longer fit together when you bite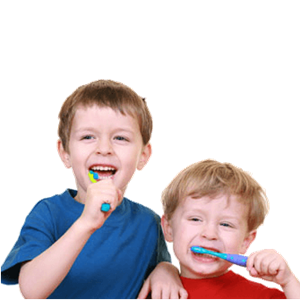 Stop Gum Disease in Its Tracks
As a result of contemporary dental care approaches, DentalWorks - Hyperlingo can help patients who have periodontal disease receive efficient solutions and regain the wellness of their teeth and gums. When you experience one or more issues related to periodontal disease, we recommend that you reach out to our City, ST office as soon as possible. Cosmetic Dentist Dr. Dentist Two and their team provide several treatments to handle any phase of periodontal disease.
Related Procedures
Related Posts